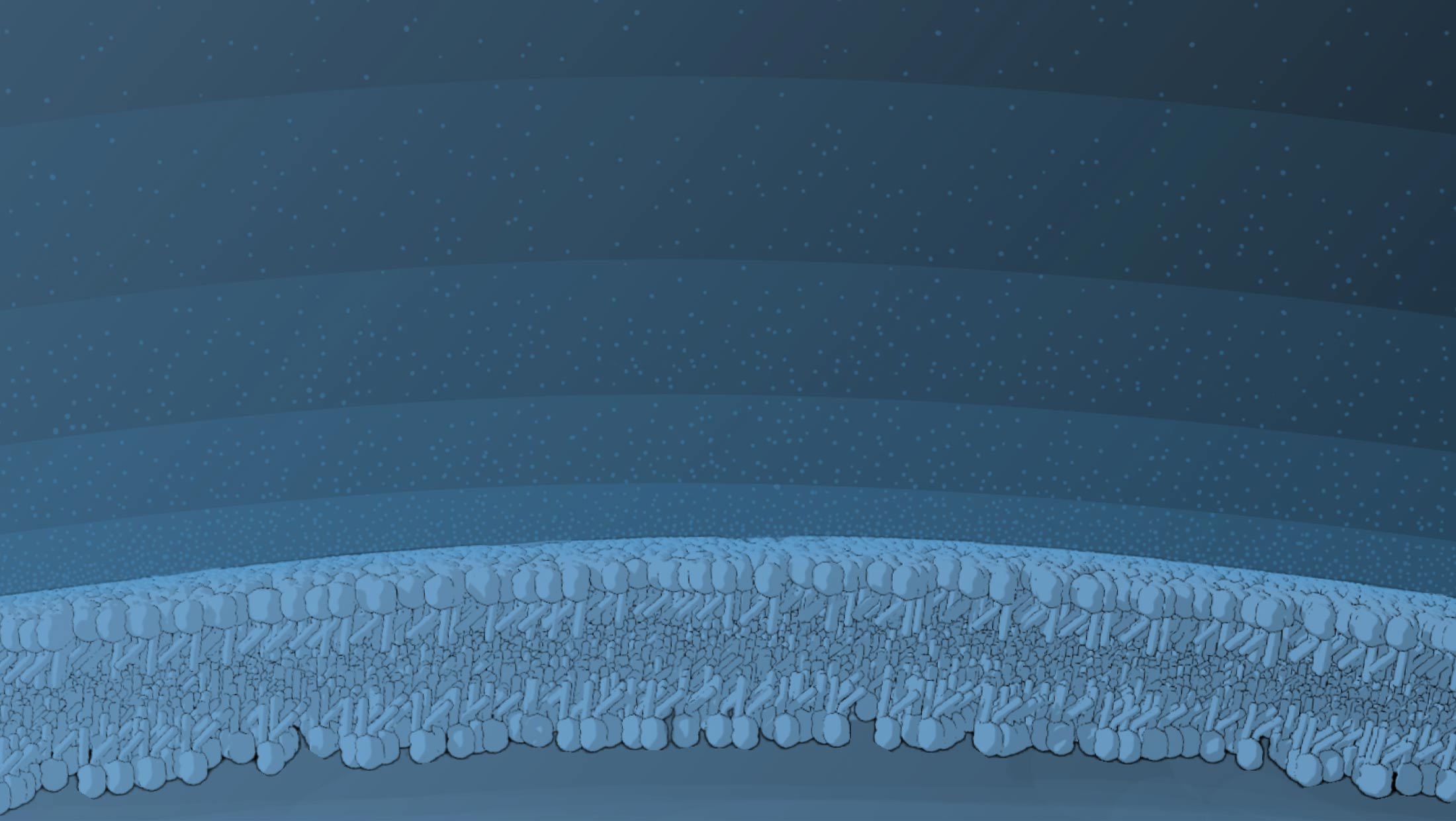 PUSHING THE BOUNDARIES
At Kodiak, we are working to develop disruptive products and platforms to prevent and treat the leading causes of blindness
ABC PLATFORM
---
We are bringing new science to the design and development of next generation retina medicines, starting with our Antibody Biopolymer Conjugate (ABC) Platform
1 Molecule, 1 Target
tarcocimab tedromer (KSI-301): inhibits VEGF for retinal vascular diseases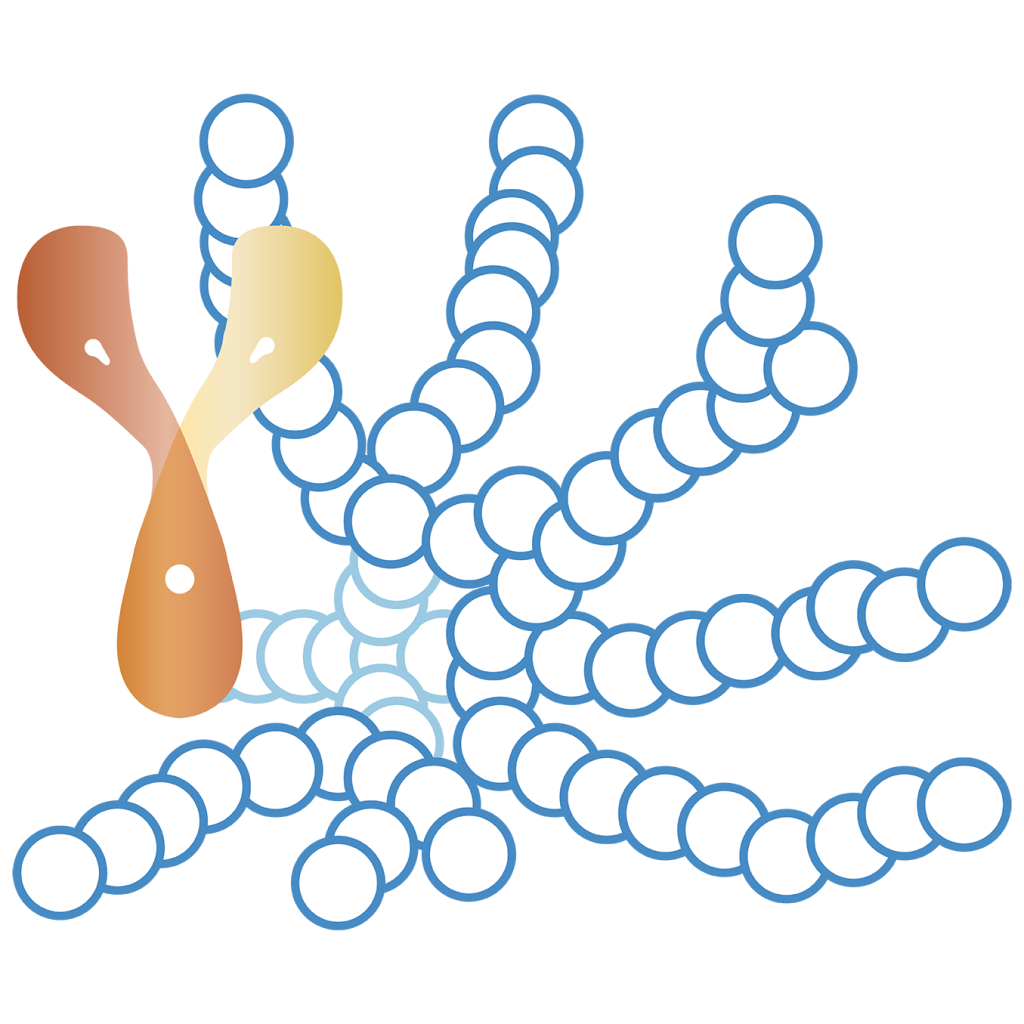 1 Molecule, 2 Targets
KSI-501: dual inhibition of IL-6 (anti-IL-6 antibody) and VEGF (VEGF-Trap) for patients that historically do not respond well to anti-VEGF alone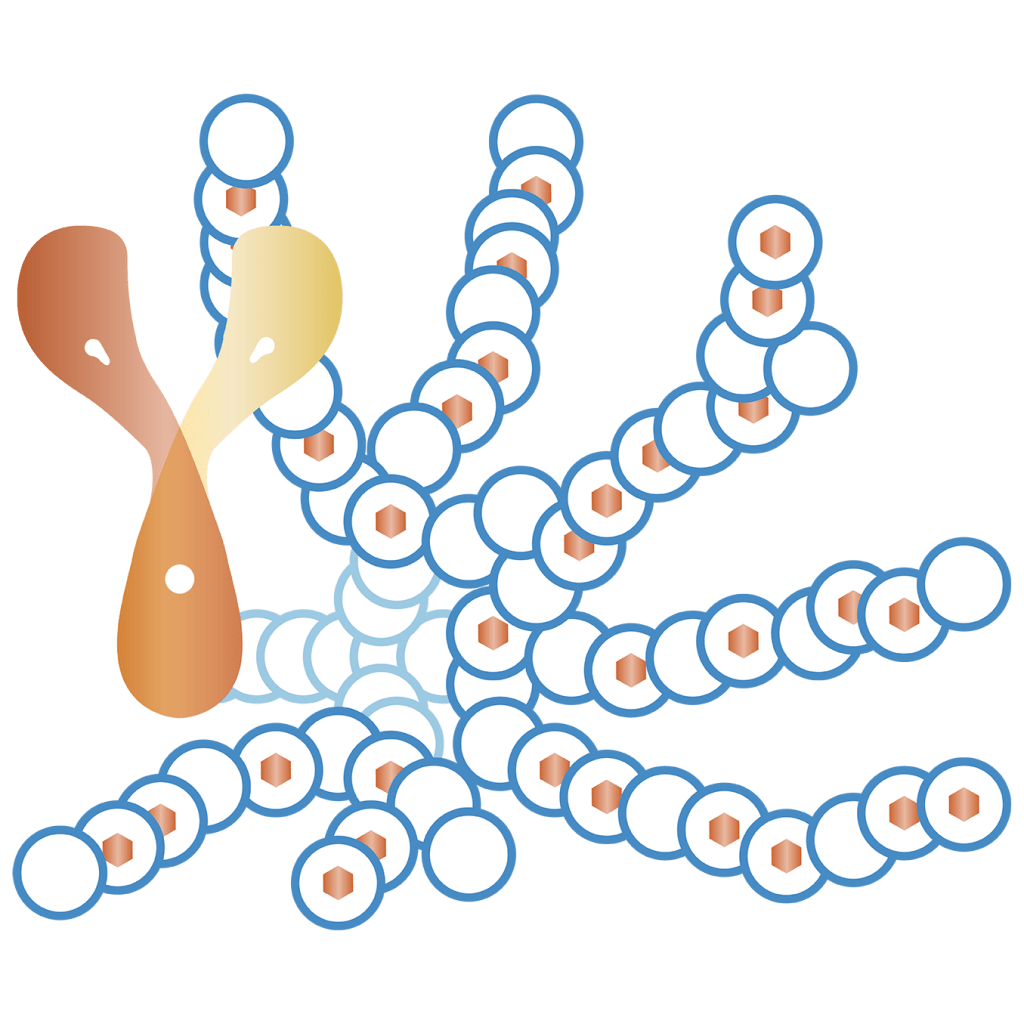 1 Molecule, 3 Targets
KSI-601: for multifactorial diseases, such as dry AMD and glaucoma
PRECISION ENGINEERED FOR INCREASED DURABILITY AND EFFICACY
---
Designed for the retina, the ABC platform uses our bio-inspired polymer to orchestrate water around a purpose-built antibody to power new and enduring capabilities in retina care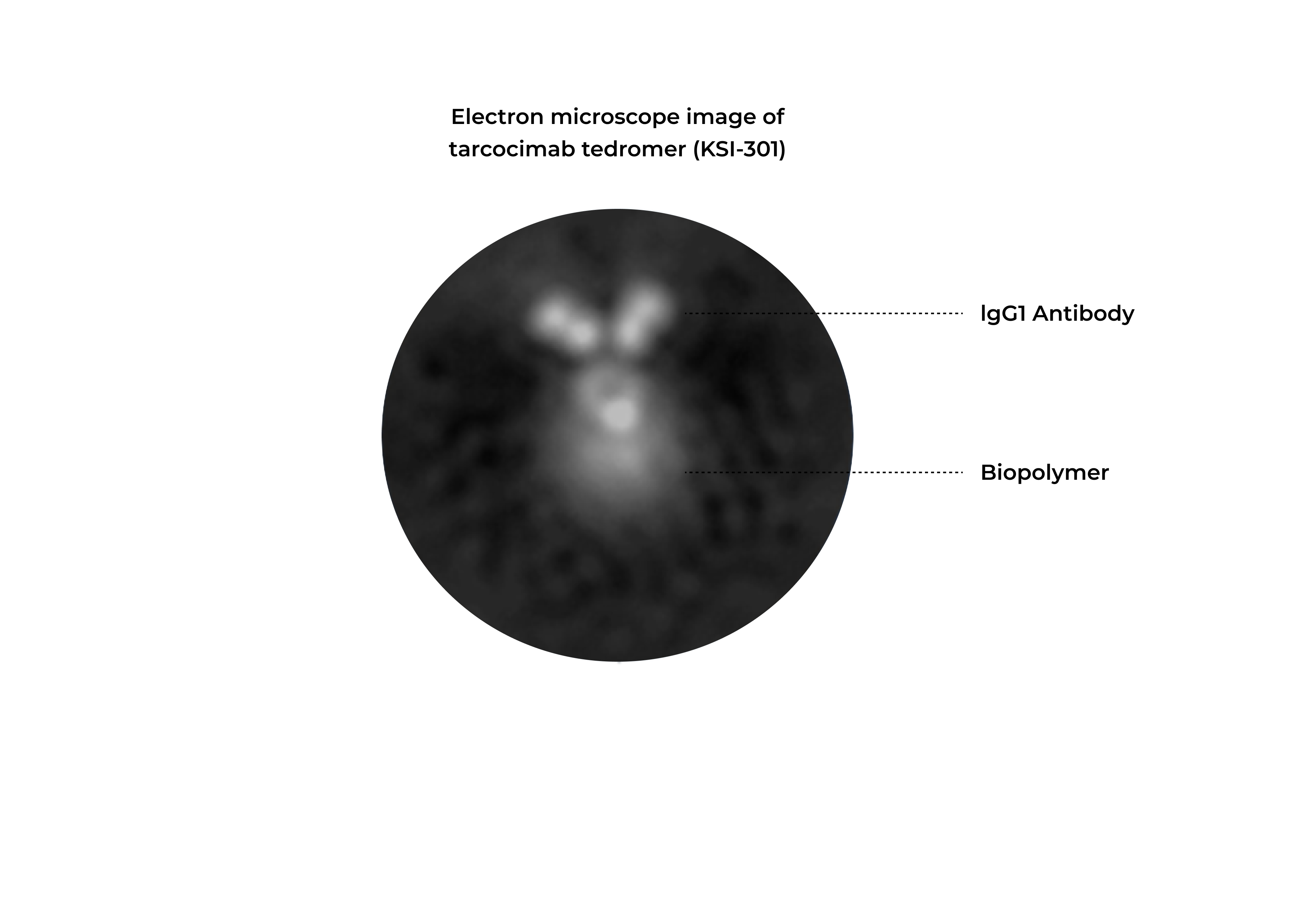 1 or 2 Targets
Biopolymer
Optically clear, branched, high-molecular weight phosphorylcholine polymer.
It binds to water to create a water force-field around the antibody. This shields it from non-specific interactions and allows it to focus on its target.
Stable, Single-Site Specific Linkage
Stable, site-specific linkage that is non-degradative and non-erodible. The bioconjugate enters and exits the eye intact leaving no residual material.
IgG1 Antibody
Engineered to bind to its target with high specificity and to be immune silent. Designed for 1 or 2 targets.
3 Targets
Revolutionizing treatment of multifactorial retinal diseases with triplet medicines
Our triplet medicines combine the benefits of our ABC Platform with the sustained release of 100's of small molecules to impact three mechanisms of disease enabling treatment of complex disorders such as dry AMD.
Bispecific Antibody
Conjugated to phosphorylcholine biopolymer designed for improved durability, excellent retinal bioavailability, and rapid systemic clearance.
New, single molecule
Designed for retinal diseases to modulate multiple intracellular and extracellular disease pathways.
Small-molecule drug
Embedded and attached into the phosphorylcholine biopolymer and designed for high biocompatibility, high drug loading, and sustained release.
BUILT TO DIFFERENTIATE AND ENDURE
---
The ABC Platform has a high molecular weight and formulation strength. This can provide an important dosing advantage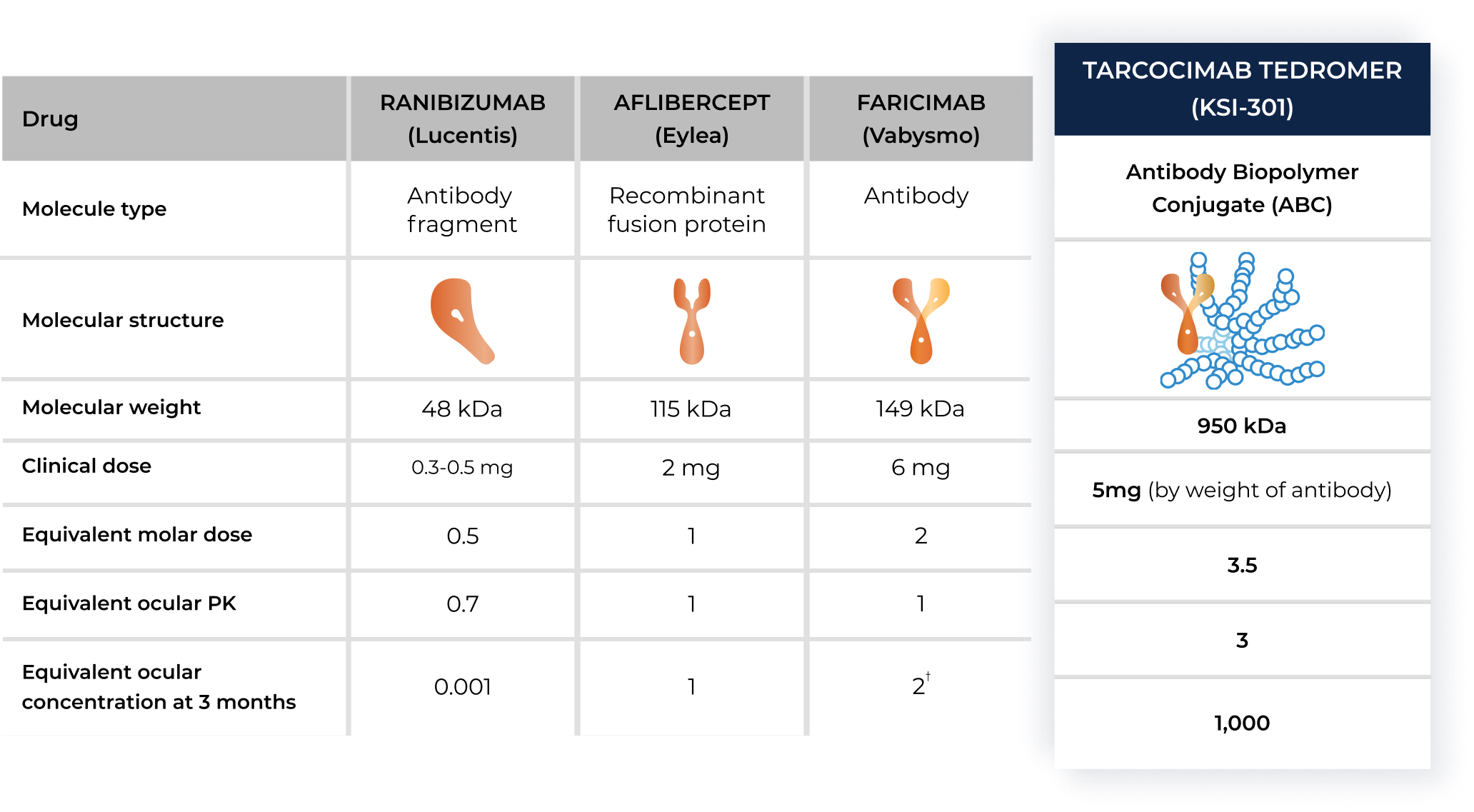 Equivalent values are shown as fold changes relative to aflibercept. kDa= kilodalton.
†Assumes 2x starting molar dose and similar ocular T1/2 as aflibercept
TARCOCIMAB TEDROMER (KSI-301): GENERATION 2.0 ANTI-VEGF RETINAL MEDICINE
---
Same Where It Matters
Clinically proven targets
Antibody-based biologic
Intravitreal: safest method of administration
Optically clear, no residues
Fast and potent clinical responses
Different Where It Counts
Designed-in ocular durability
Designed-in rapid systemic clearance
Improved bioavailability
Improved biocompatibility
Improved stability
MORE THAN THE SUM OF ITS PARTS
---
The ABC Platform structures water at critical binding interfaces to make medicines last longer in the eye and improve their therapeutic benefit
Remarkable Intraocular Half-life
Medicines built on the ABC Platform (e.g., KSI-301) last longer and better maintain therapeutic concentration levels in the eye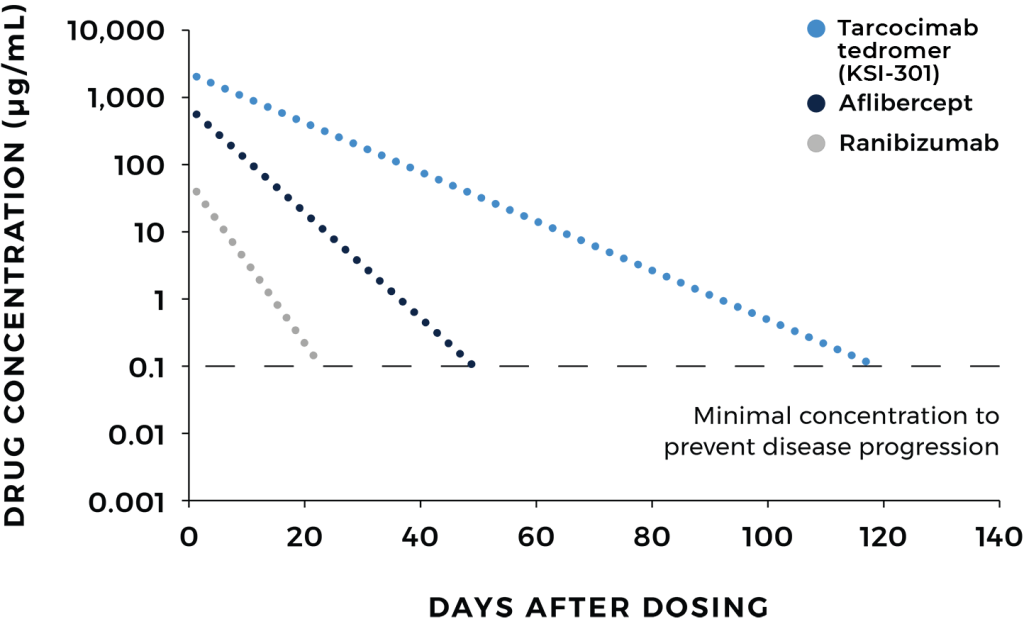 Excellent Retinal Bioavailability
The ABC Platform improves therapeutic absorption and distribution in the eye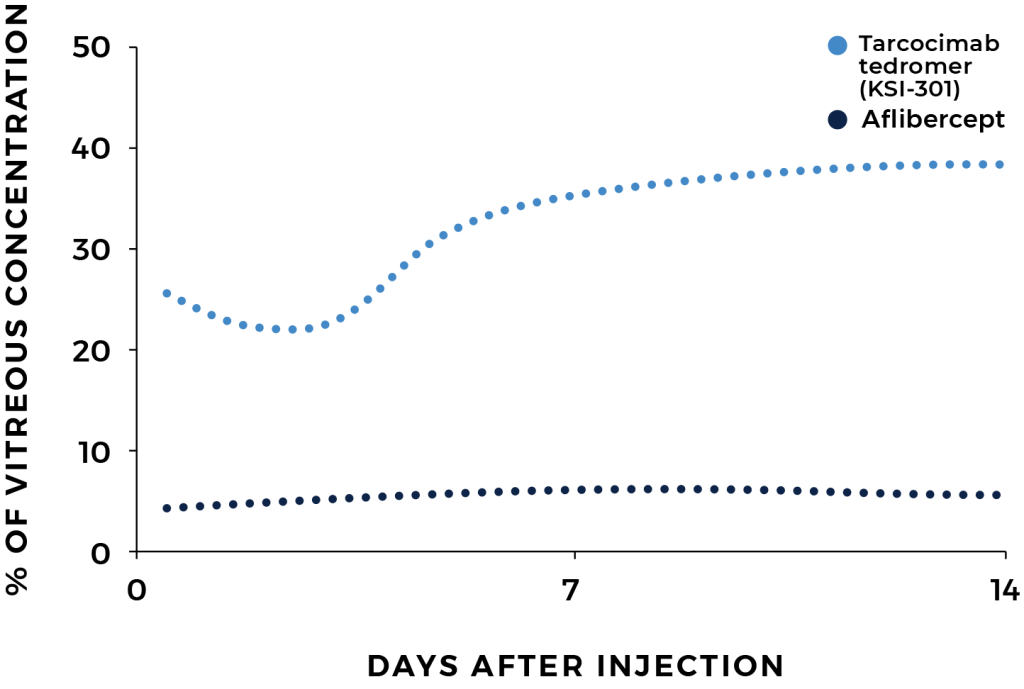 Deeper Inhibitory Potency
The ABC Platform binds and inhibits VEGF in a more relevant way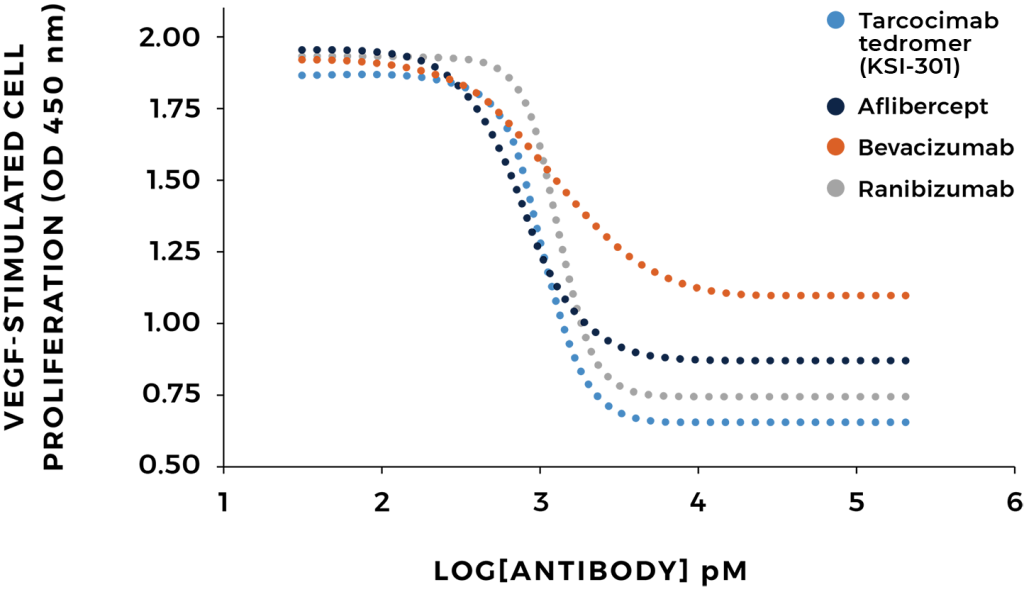 Fast Systemic Clearing
The ABC Platform is designed to clear the body quickly after it exits from the eye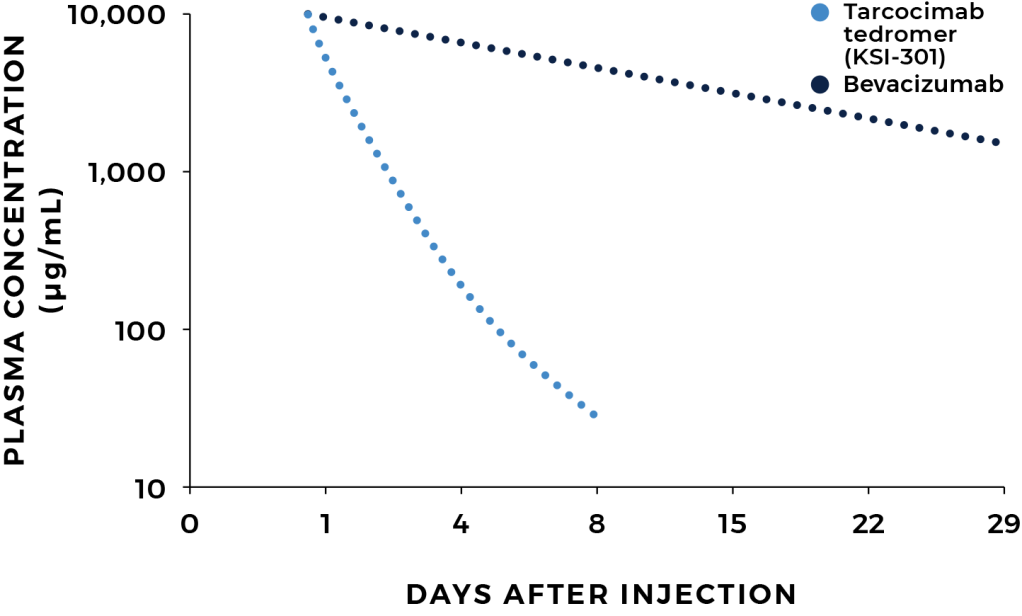 TAKE A 3-DIMENSIONAL TOUR
---
Tour our Antibody Biopolymer Conjugate (ABC) PlatformTM in 360° below.
Click and drag to see different views. Scroll or pinch to zoom.
Please be patient while the 3-D model loads
Launch the ABC Platform Interactive Experience